Aaron Stevens
Aaron is currently a second year student with Employ My Ability at our Moreton site The Walled Garden Moreton.
Aaron is passionate about catering. Having enjoyed previous work experience placements at the Ilchester Arms in Abbotsbury with his previous college, Aaron came to us equipped with an impressive set of skills in the kitchen. He has shown himself to be a valuable member of our team in the Dovecote café at our Moreton site, taking charge of our breakfast menu as well as creating specials for sale to our customers.
Before lockdown, Aaron's exceptional skills led him to an external work experience placement at Taste Brasserie in Dorchester where he has worked as assistant to the chef for a full day once a week. Taste Brasserie has been a fantastic opportunity for Aaron to further his knowledge and skills and gain experience in a busy kitchen.
The work placement team have set Aaron outcomes in both places of work to lead to a transference of skills between the two places to benefit both Taste Brasserie, the Dovecote café and of course, to increase Aaron's confidence and skills. We're looking forward to the cafés being opening once again so Aaron can continue to achieve his goals.
Aaron has had minimal support from EMA staff at his workplace and is now travelling to work and back from home independently as well as working without support as part of the chef team at Taste. Aaron is well on his way to becoming a fantastic chef and we're excited to be a part of, and to follow his journey!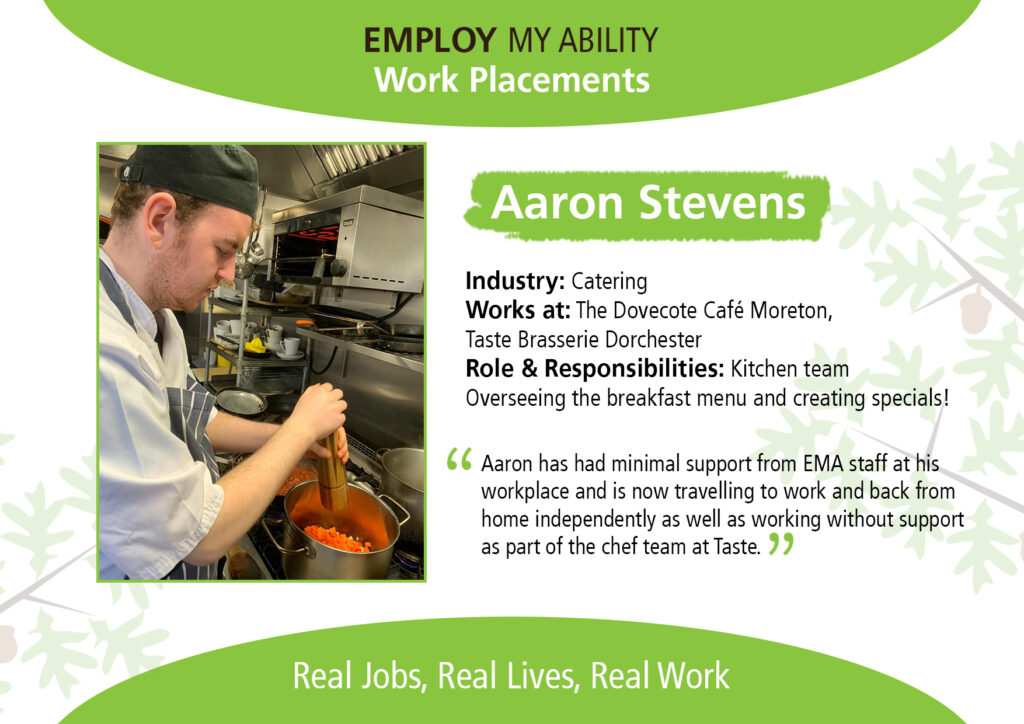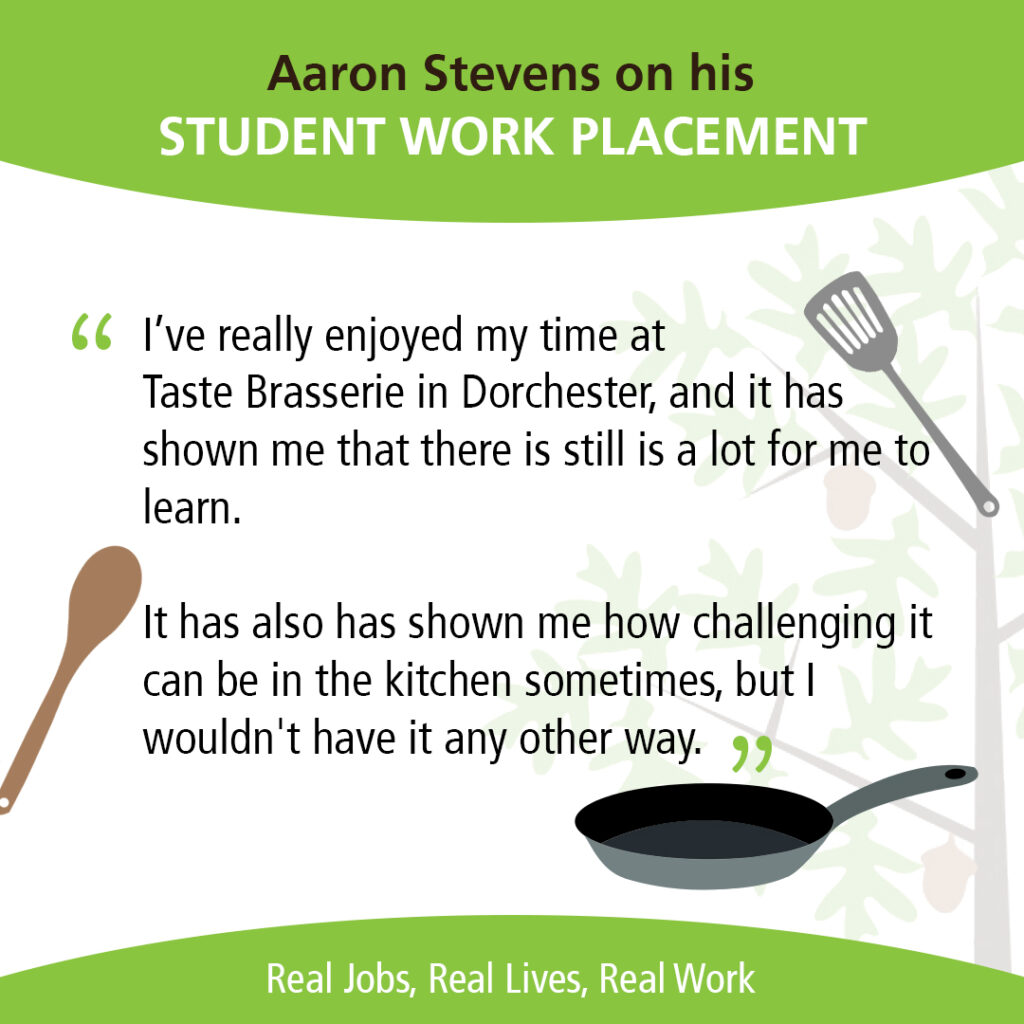 ---
Alice Saunders
Alice started her Employ My Ability placement in September 2019. Alongside her academic timetable, she also takes part in vocational studies which include work experience in our very own dovecote café at our Moreton site (in early 2020 this operated out of the Moreton Tea Rooms).
The thinking behind work experience in our own café is that it provides a secure and comfortable environment for our year one students to gain and progress their basic hospitality skills in the kitchen and front of house department.
Alice has shown a real passion for catering and loves working with our chef team, engaging in food preparation and baking to provide quality cakes and lunches to our customers. Alice spends her time in the kitchen preparing vegetables, making soup and helping to bake. Her knife skills have developed well and she can be given a task and be left to work independently.
The work experience team set outcomes for her with the chef team and herself to ensure she progresses at a pace that is individually tailored for her abilities, while gently encouraging her to improve all her skills, and for her to gain the confidence to move into an external work placement during her second or third year.
We at EMA have no doubt that Alice will become a real asset to a future employer as she is progressing so well. Well done Alice, you're a superstar!