We're well underway with 2023, but we had to take a moment to reflect back on December in what turned out to be a wonderful community project for Employ My Ability and Angel Exit Theatre.
Gillingham campus students, staff members, and EMA day service users were all involved with the preparation and running of an interactive visitor experience – The Fairytale Forest. Directed by Angel Exit, a Dorset based theatre company. The free event was funded by Dorset Community Foundation and Dorset County Council and featured as a huge part of the seasonal attractions at Thorngrove Garden Centre.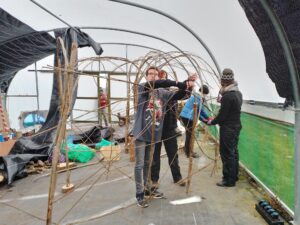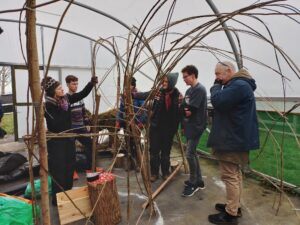 above: Students seen in photos helping craft sets for the event!
This was a brilliant enrichment opportunity for students and EMA day service users to build confidence and see the results of their hard work and craft in an event attended by the public. They played a huge role in the decoration of the polytunnels, and in the event itself.
EMA staff had the following to say:
"I feel that the whole experience brought everyone together. Even the quieter students came to life and enjoyed every moment to the point of coming in on their college break to participate. It had a calming effect on our Autistic students too." – Jo Russell, Education Co-Ordinator
"Thank you so much for what you gave the community of Gillingham and the students at Employ My Ability. It did wonders for the students' confidence and self-esteem and the joy on the young faces of those who visited was truly magical. Thanks to Angel Exit Theatre for embracing the true essence of Christmas and to the Dorset Community Foundation and Dorset Council for giving so much to so many in these austere times  – it was quite literally priceless! It was an absolute pleasure volunteering for Angel Exit  and would recommend all to do so – thanks again" – Barry Parker, Tutor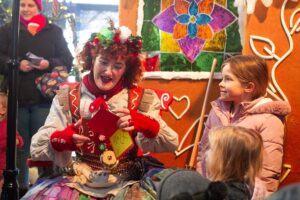 above: Mary Godmother (Lynne Forbes) with event attendees
Co-Director Tamsin Fessey of Angel Exit said;
"We had just over 1600 visitors to the forest and were overwhelmed with how welcoming and helpful everyone at Thorngrove was in creating The Fairy Tale Forest. We had students, staff and day service users helping with creating decorations, costumes, parts of the set and front of house guided by our designer Tish Mantripp and then we had staff and students performing every day in the forest. We saw confidence from students growing as the week went along and getting more and more into character. It was lovely. We can't thank the staff enough for coming in as volunteers on their time off to help out and be part of it. We saw quiet students and day service users really coming out of themselves. We'd love to come back and do some more drama workshops with everyone to continue the relationship."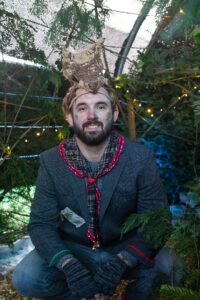 above: EMA staff member Sam gets involved with the event!
Feedback from visitors:
"Shout out to all the staff and people at Thorngrove GC/Employ My Ability/Angel Exit theatre for the fairy tale forest. My 4 year old daughter has not stopped talking about you all and the magic forest, the fairy godmother was absolutely amazing and all the children were engrossed"
"The Thorngrove, Gillingham magical fairy forest experience was exceptional! So imaginative and atmospheric. I took my grandchildren aged 11, 10 and 6 to it and they all loved it. Mary Godmother was a triumph! Thank you all so much."
"It was absolutely fantastic! Two very happy little girls enjoyed the magic you wove! (And the grown ups were equally blown away!) Magical, thank you!"
"It was wonderful! Thank you so much! So much better than anything I've ever been to with the grandkids."
"It was the most beautiful experience – just like walking into Magic. We loved the interactivity and how the creatures populated the world. We especially loved the jar of clouds inside the shop – all the potions and jars which had stories attached were an absolute delight. A wonderful alternative winter adventure!"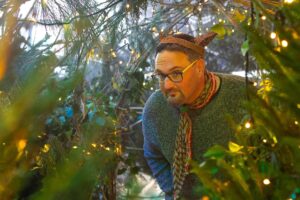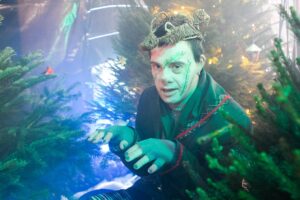 above: EMA day service users Jay and Sam had roles in the event too!