Operating out of the beautiful picturesque rural countryside of Moreton, and our Gillingham based Garden Centre, our students work in a real horticulture business, retail and café spaces, alongside real customers supported by highly trained teaching staff. Our business works closely with the local community and provides incredible resources for local students with SEND. We spend as much time and effort helping our students develop successful social skills as we do teaching them Functional Skills in Maths and English
Over the period of time our students spend with us they will have timetabled and structured vocational sessions where they will learn the skills they need to prepare them for work when they leave EMA.
The learners have short term individual structured outcomes to achieve in each vocational department designed to help them develop their skills and continually progress and further their practical knowledge.
Once our learners have developed a range of basic skills in their vocational range, they will be supported to find an external work experience of their choosing in their local area so as to encourage independent travel to their workplace. The external work placements are fully supported by a member of EMA staff to ensure the learner feels secure and supported for as long as is necessary. We like to try and give our students placement for one full day a week to encourage a routine and to maximise the development of their skills within this setting. Once the employer and student are comfortable, we reduce the support if appropriate so they can gain independence in the workplace.
As with our onsite work experience, short term outcomes are put in place with the student and the employer to continually progress their skills. These outcomes are reviewed at six week intervals to encourage continual growth. We have a wide range of local employer partners in the hospitality, horticultural, retail and animal care sectors across Dorset who facilitate these placements. Without their help we would really struggle to place our students, they provide the real world experience our students need to progress and we are always grateful for their assistance.
We continue to find every opportunity to invest in our former students and assist them in new employment opportunities.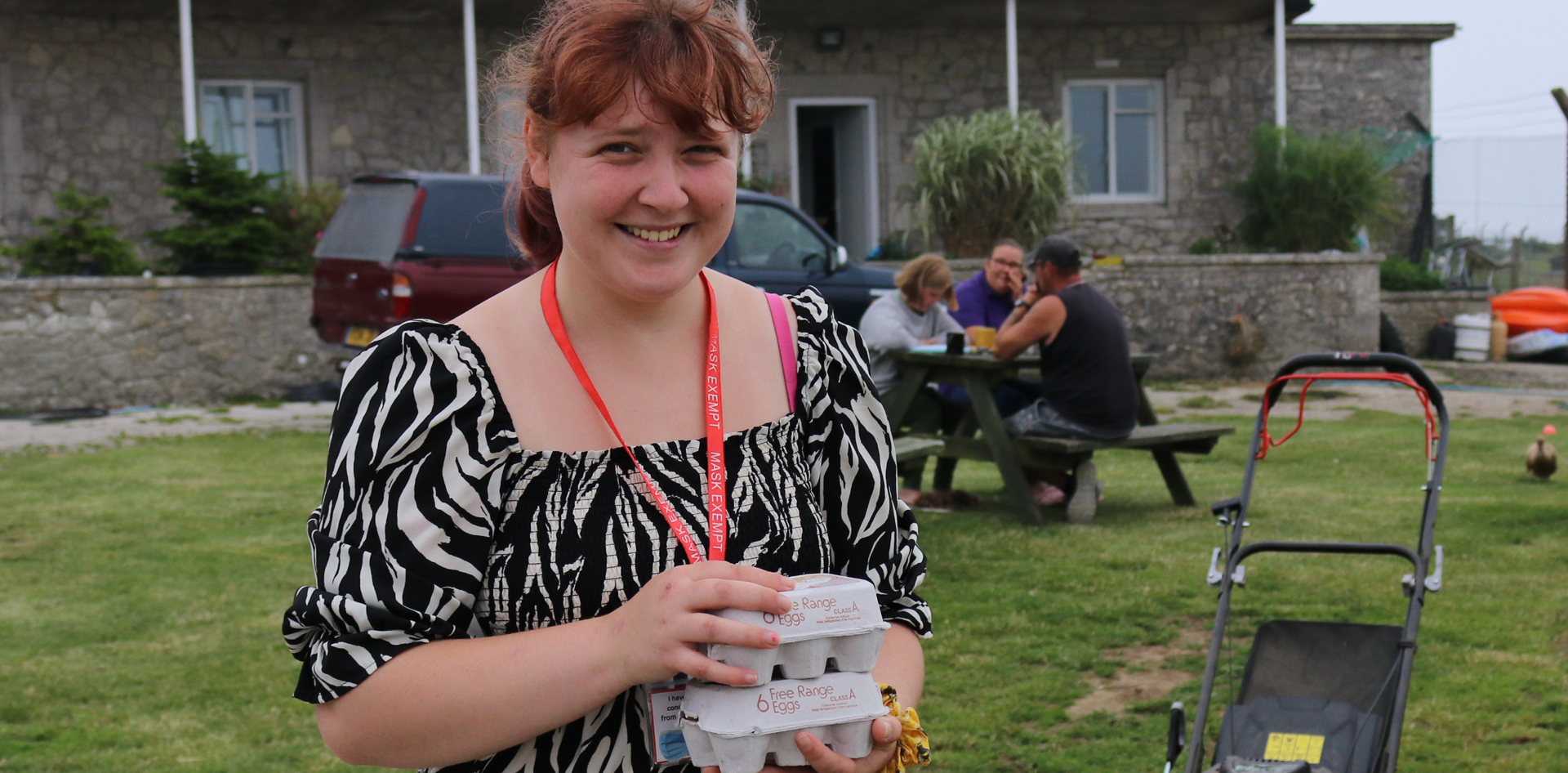 "Internal and external work experience placements are a vital area to our vision at EMA. It provides the stage for our classroom learning to be expressed in the real-life working environment. This is where we really see our students progress and it is a pleasure to watch them grow both with their confidence and their social skills."
James Dunham, Senior Tutor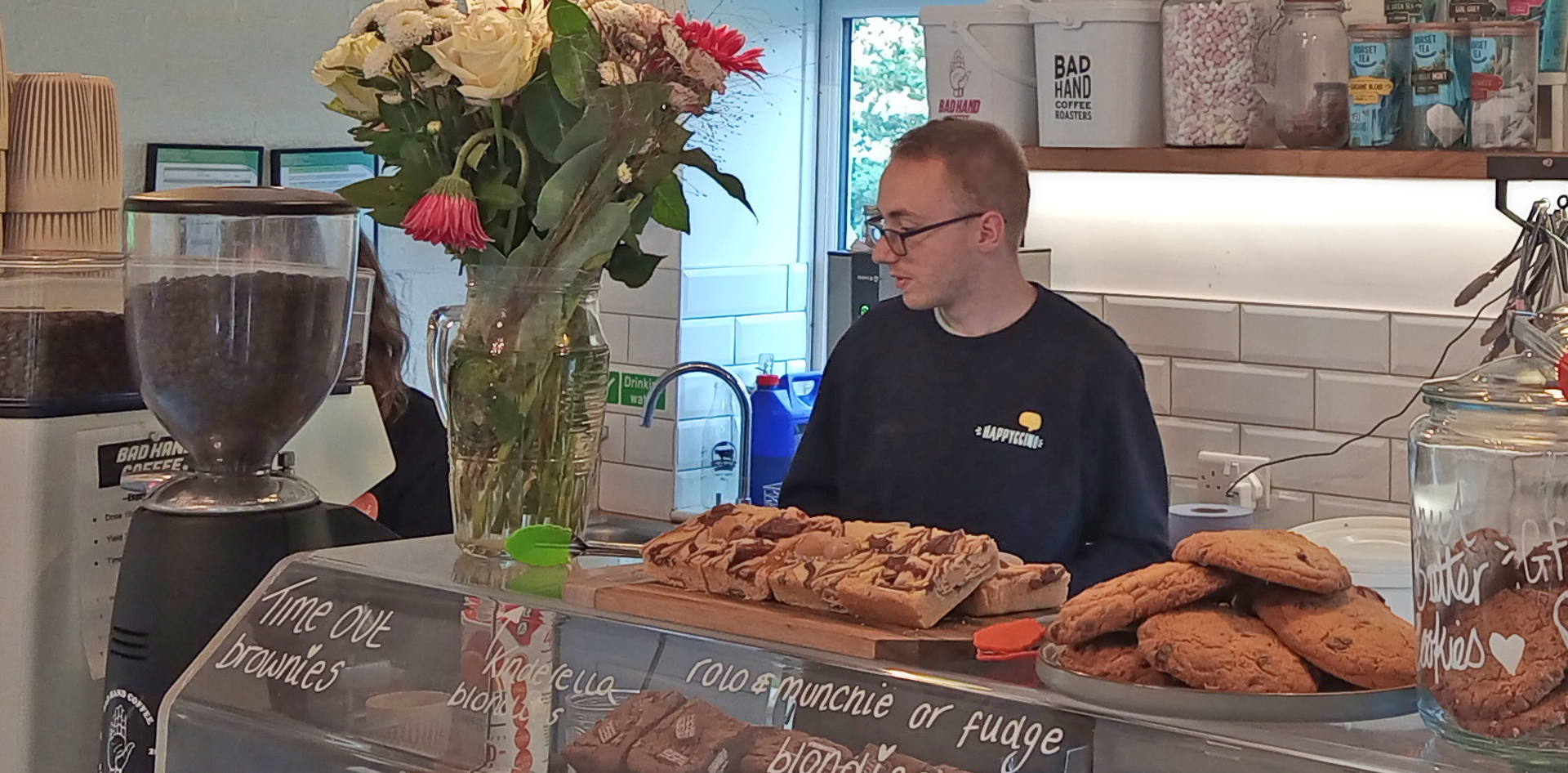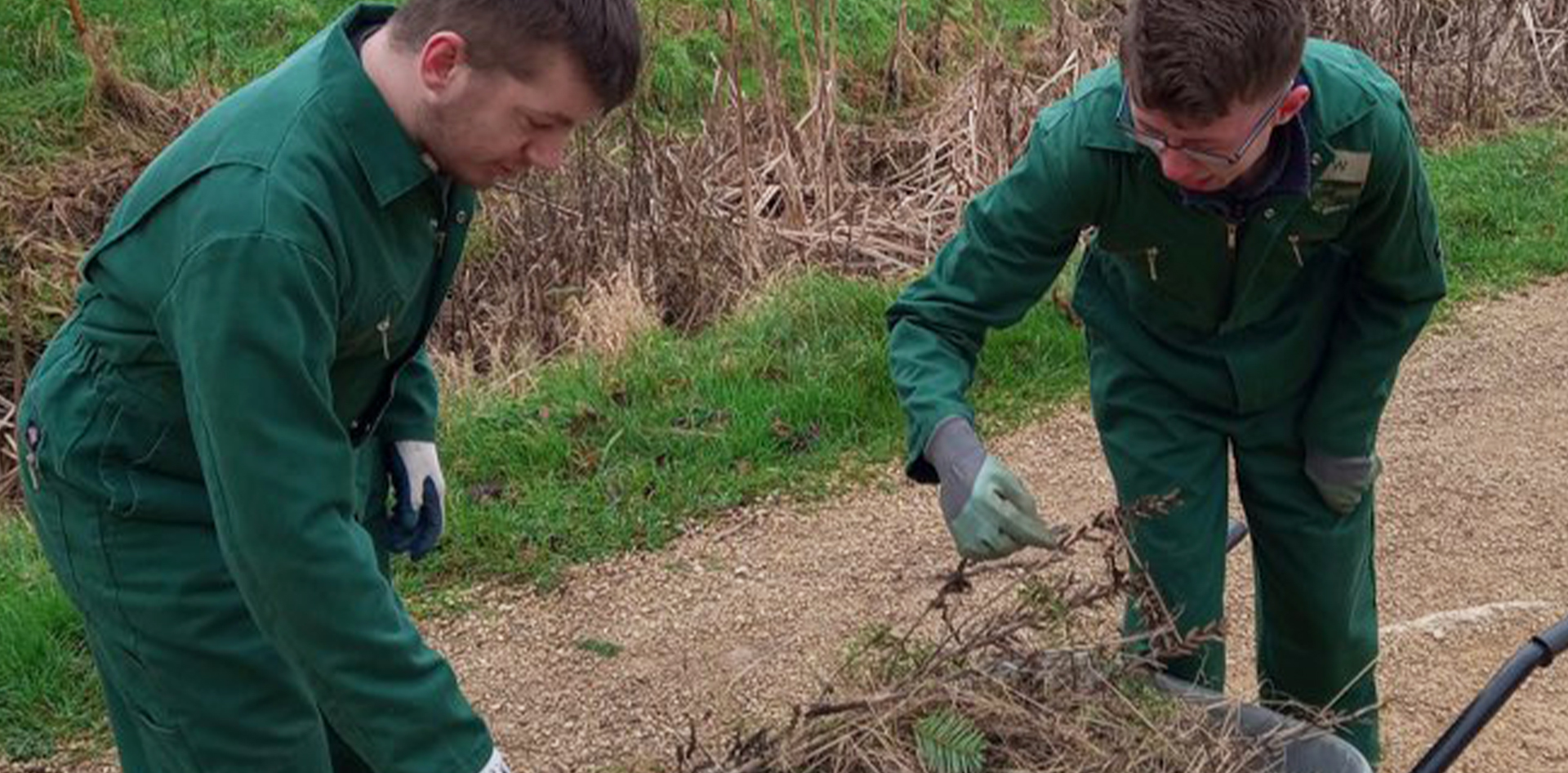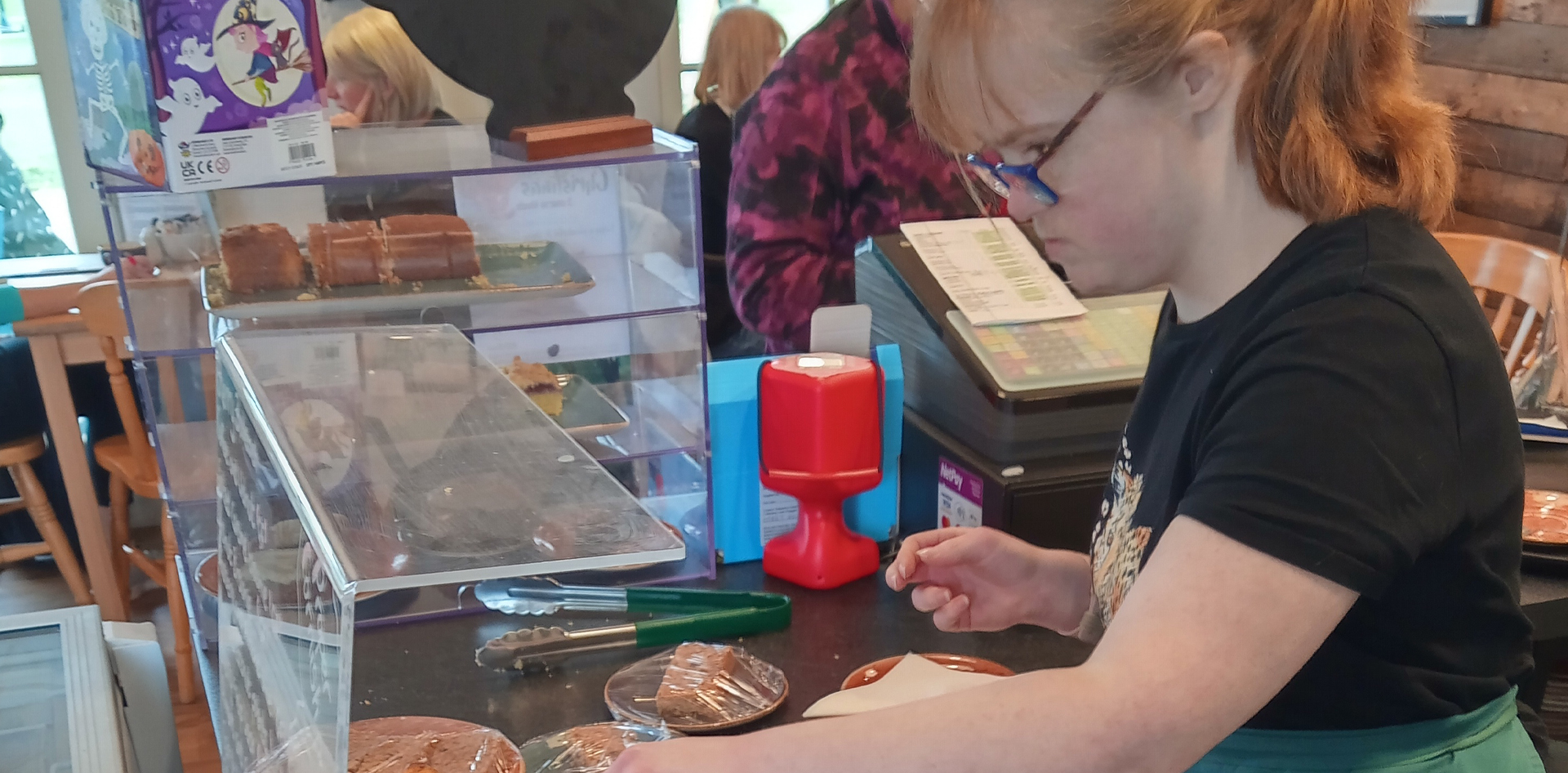 PREVIOUS WORK EXPERIENCE CASE STUDIES
2019-2020
---
Alice Saunders
Alice started her Employ My Ability placement in September 2019. Alongside her academic timetable, she also takes part in vocational studies which include work experience in our very own dovecote café at our Moreton site (in early 2020 this operated out of the Moreton Tea Rooms).
The thinking behind work experience in our own café is that it provides a secure and comfortable environment for our year one students to gain and progress their basic hospitality skills in the kitchen and front of house department.
Alice has shown a real passion for catering and loves working with our chef team, engaging in food preparation and baking to provide quality cakes and lunches to our customers. Alice spends her time in the kitchen preparing vegetables, making soup and helping to bake. Her knife skills have developed well and she can be given a task and be left to work independently.
The work experience team set outcomes for her with the chef team and herself to ensure she progresses at a pace that is individually tailored for her abilities, while gently encouraging her to improve all her skills, and for her to gain the confidence to move into an external work placement during her second or third year.
We at EMA have no doubt that Alice will become a real asset to a future employer as she is progressing so well. Well done Alice, you're a superstar!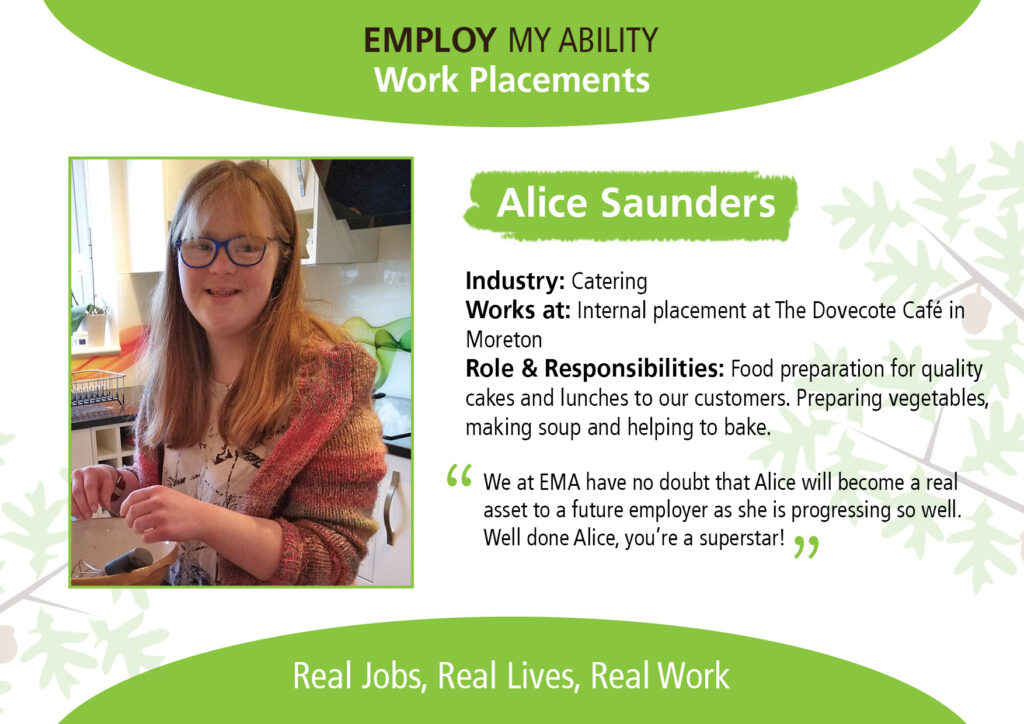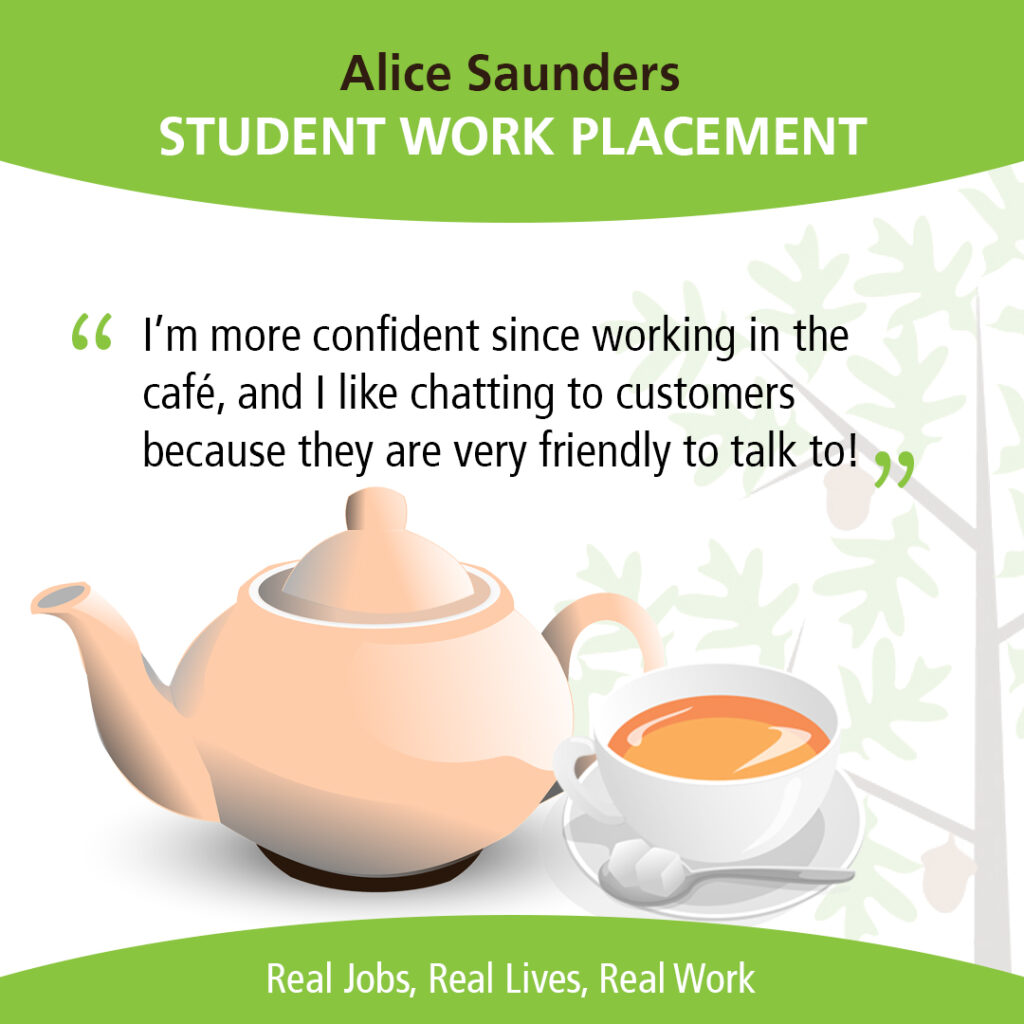 ---
James has always had an interest in horticulture and has previously had work experience at a local garden centre. James is currently working towards his academic qualifications alongside his vocational qualifications in land based studies. To compliment his vocational studies at EMA, had been working with the Dorset Ranger team, assisting them with managing the land at Turnerspuddle heath, near Bovington. This is a large scale task as 80% of the gorse needs clearing from a large area of heathland to encourage the growth of a diverse variety of flora and fauna.
James really settled into the job role, it was tough work and he's shown himself to be more than capable of stepping up to the challenge. James is supported by a member of EMA staff at the moment, but as with all our external work placements, we will gradually reduce the support when he is more comfortable working independently with the Dorset Ranger team. The Ranger team and volunteers have been massively supportive and James really feels he is a valued part of the team.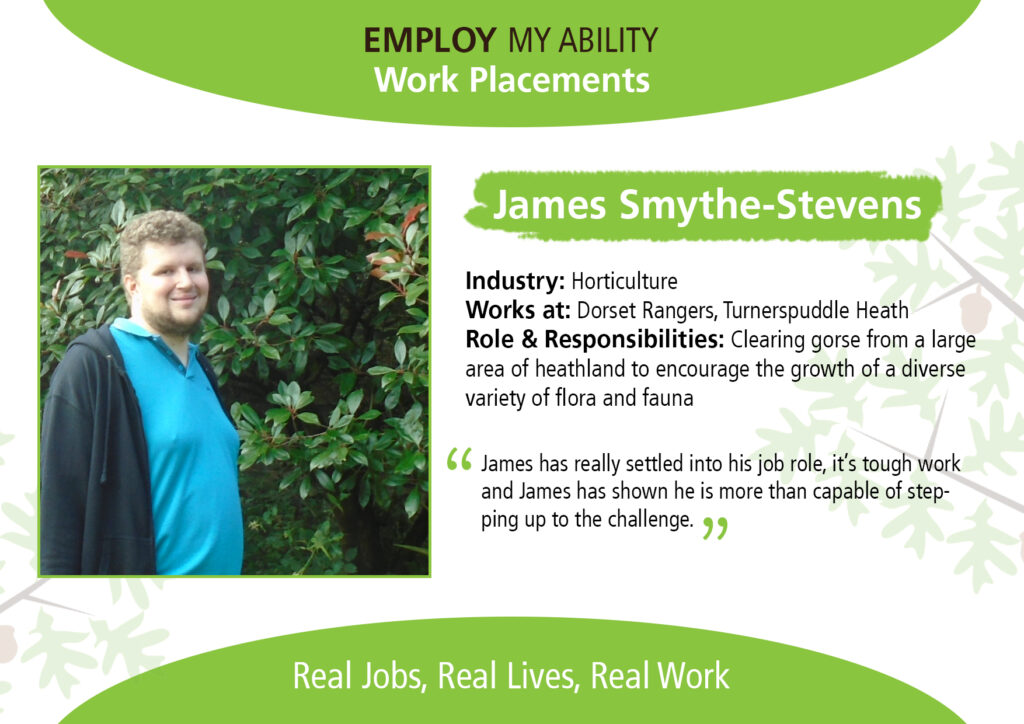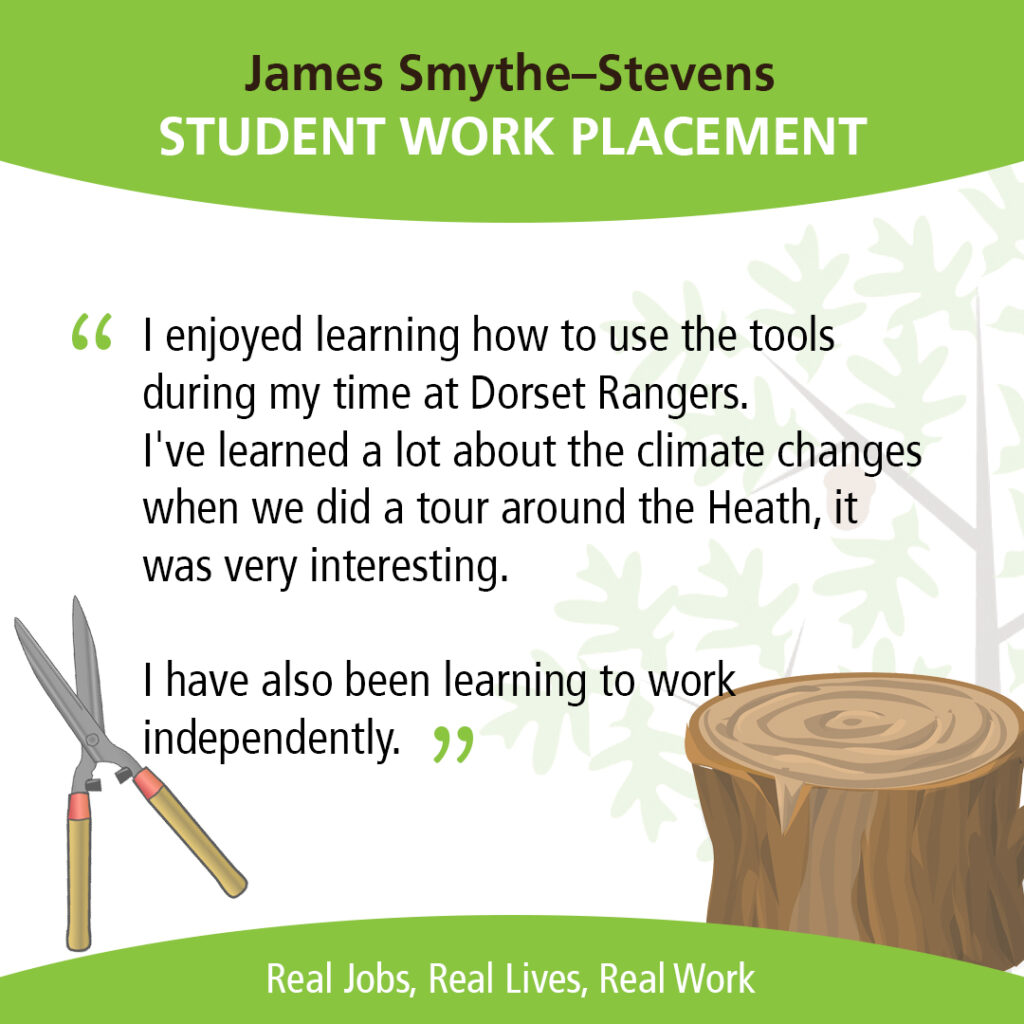 ---
Joshua Lloyd-Jones
Josh has spent almost four years at our Moreton site, but after the Thorngrove site began operating Josh moved there from Moreton to save a long daily commute to Moreton. Josh has always had an interest in catering and spent three years at Moreton working in our Dovecote café under the guidance of the head chef. He has a great work ethic and has really bought his skillset on from engaging in practical experience in a working kitchen helping the chef to create a variety of light lunches and various aspects of baking.
Josh has also been assisting the head chef at The Mellowes residential care home in Gillingham one day a week, preparing the lunch meals for the residents. He has shown himself to be more than capable in this role, and is constantly achieving the outcomes set for him by the chef and the Employ My Ability work experience team.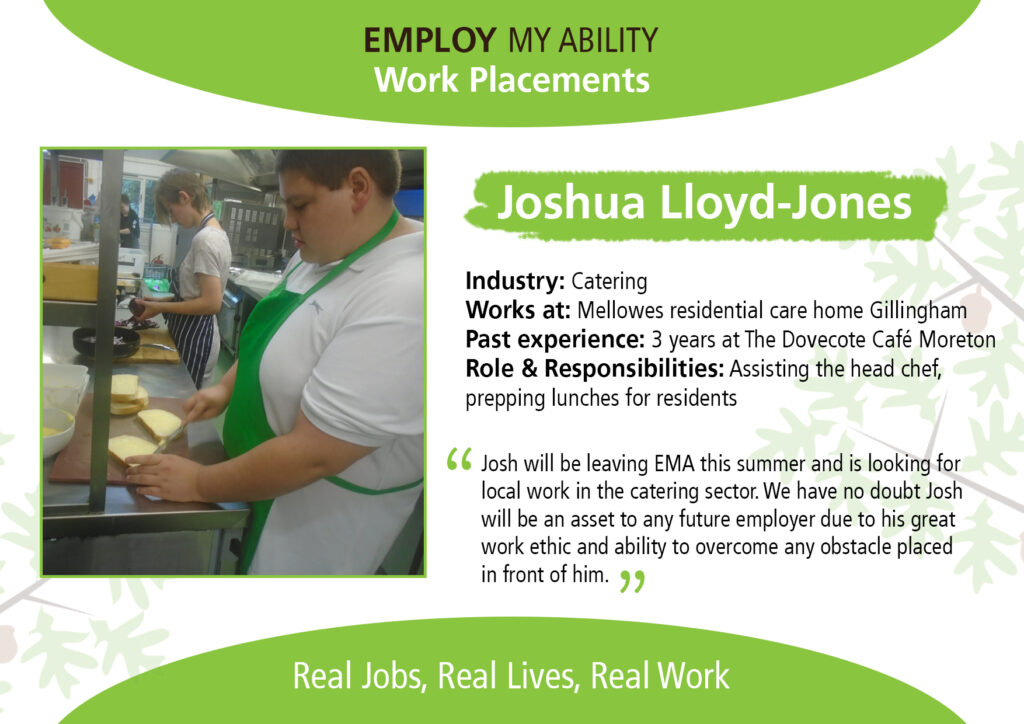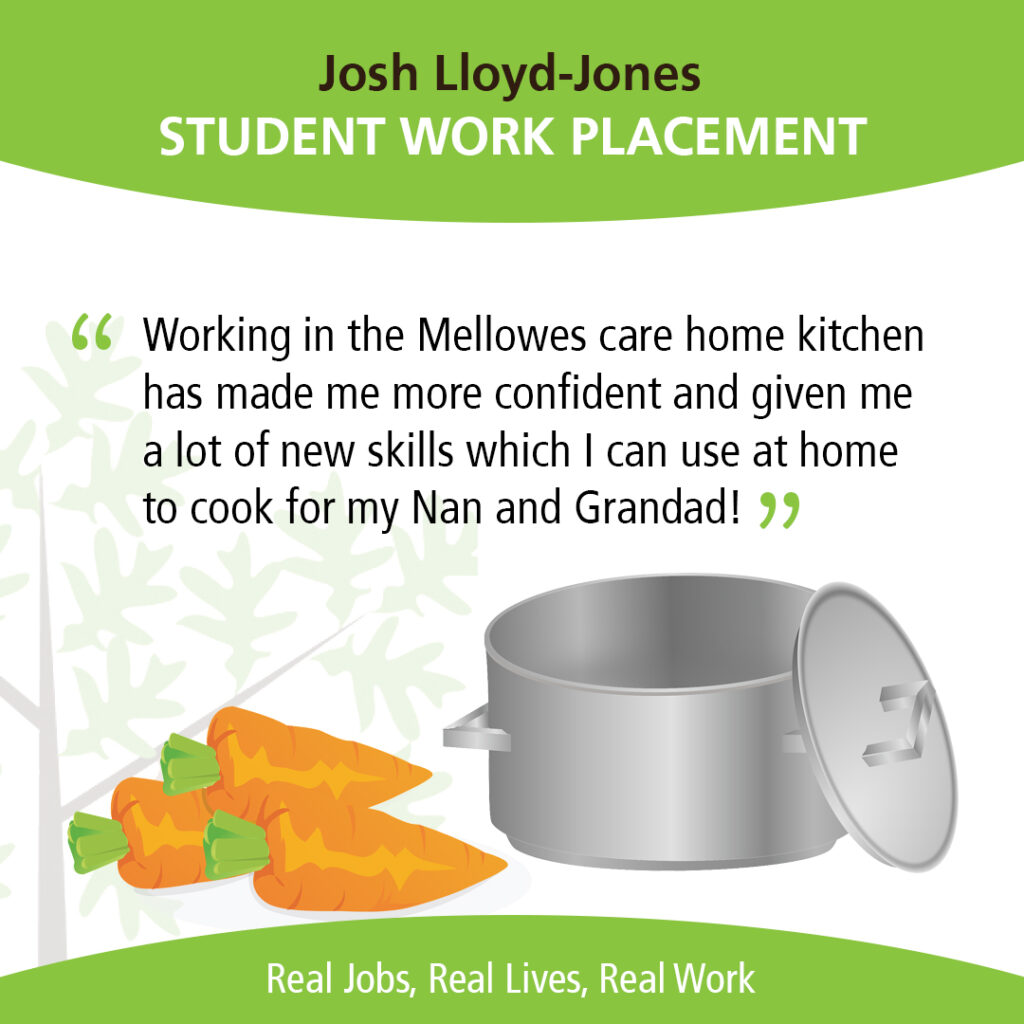 ---
Jessica Daisley
Jessica spent three years at Employ My Ability. She studied towards her land-based qualifications with us and to provide her with some real world work experience in this she spent one day a week working alongside the Dorset Rangers at Thorncombe woods near Dorchester in a voluntary role. Jess worked from 10am until 3.30pm and her duties included starting and running the eco burner that provides heat and hot water for the Hardy's birthplace visitors centre, general maintenance of the bird feeders and engaging with the public. Jess also took part in various projects in Thorncombe woods which included cutting back holly bushes to encourage other flora to grow unimpeded, coppicing hazel trees and using the coppiced wood to create deer proof hazel fencing to protect the young hazel trees to ensure future coppicing projects, as part of the overall land management plan. Jess has a long term goal to become a full time Ranger working the land in the local area. Good luck, Jess!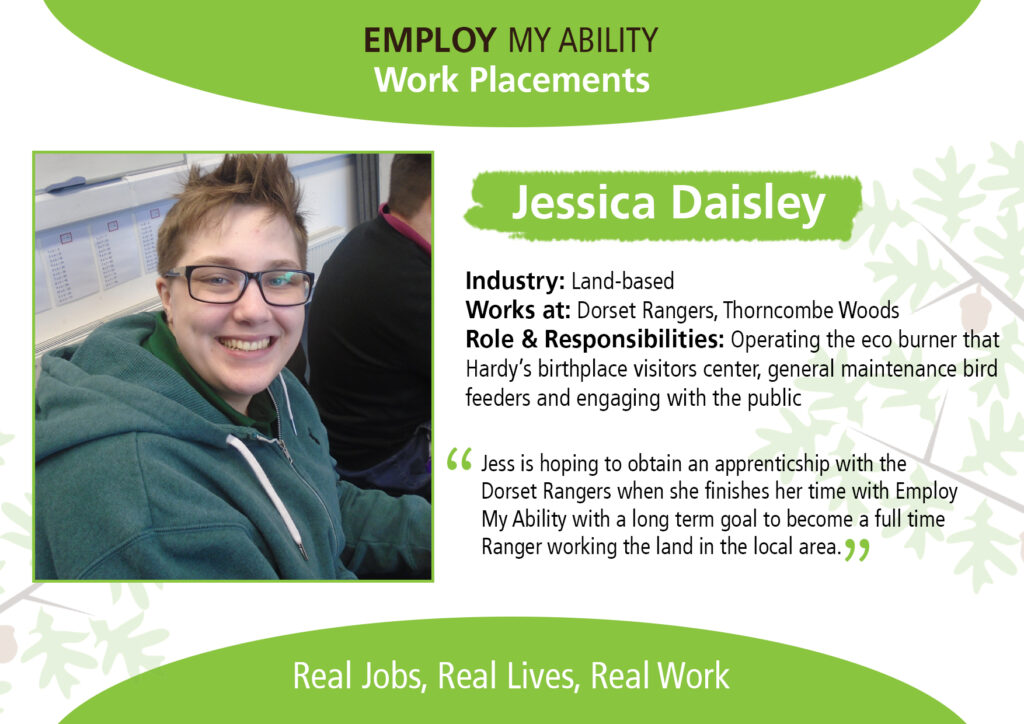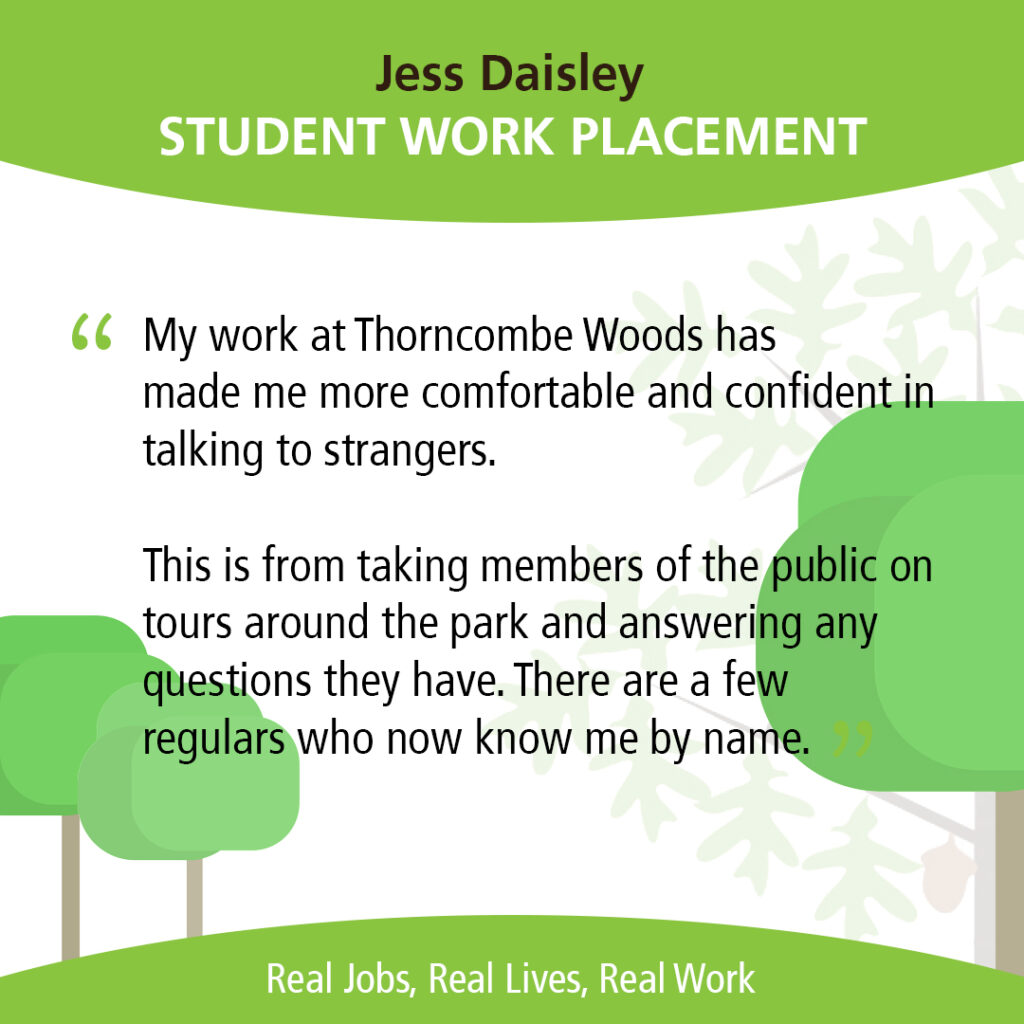 ---
Cameron Momin
Cameron finished up his third year at Employ My Ability in 2020 and had been studying animal care.
Alongside his academic curriculum, Cameron also took part in vocational studies caring for the wide variety of animals we have at Employ My Ability. To give Cameron some real world work experience he had been taking part in our external work experience program by working one day a week at High Mead Farm near Ferndown in Dorset.
Cameron's duties at High Mead Farm include cleaning out, caring for and feeding the variety of small and large animals they have on site. While this can be challenging, Cameron has shown that he has the skills and enthusiasm to rise to the challenges presented to him in the workplace. His work experience has enabled him to take on tasks that we can't provide him with at EMA, such as working with large animals and working as part of a large team to ensure the welfare of the animals are met.
Cameron shows a fantastic working knowledge of how to care for a variety of animals and is looking for a job in animal care now he's leaving us. Cameron's attention to detail combined with his great work ethic will make him an asset to any future employer.
Good luck with everything in the future, Cameron!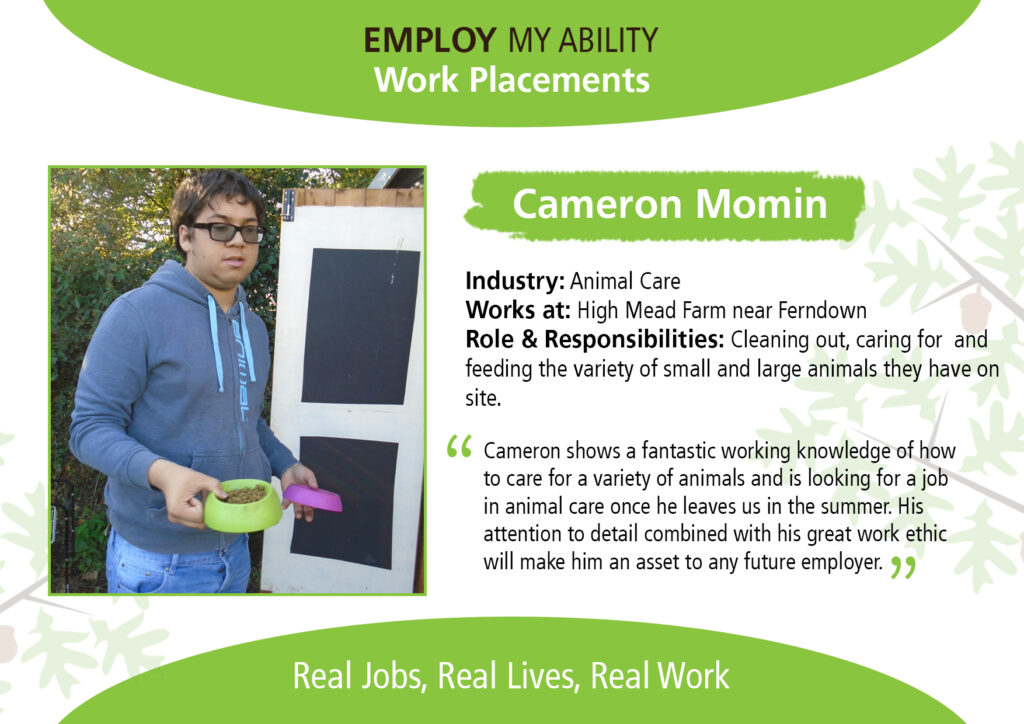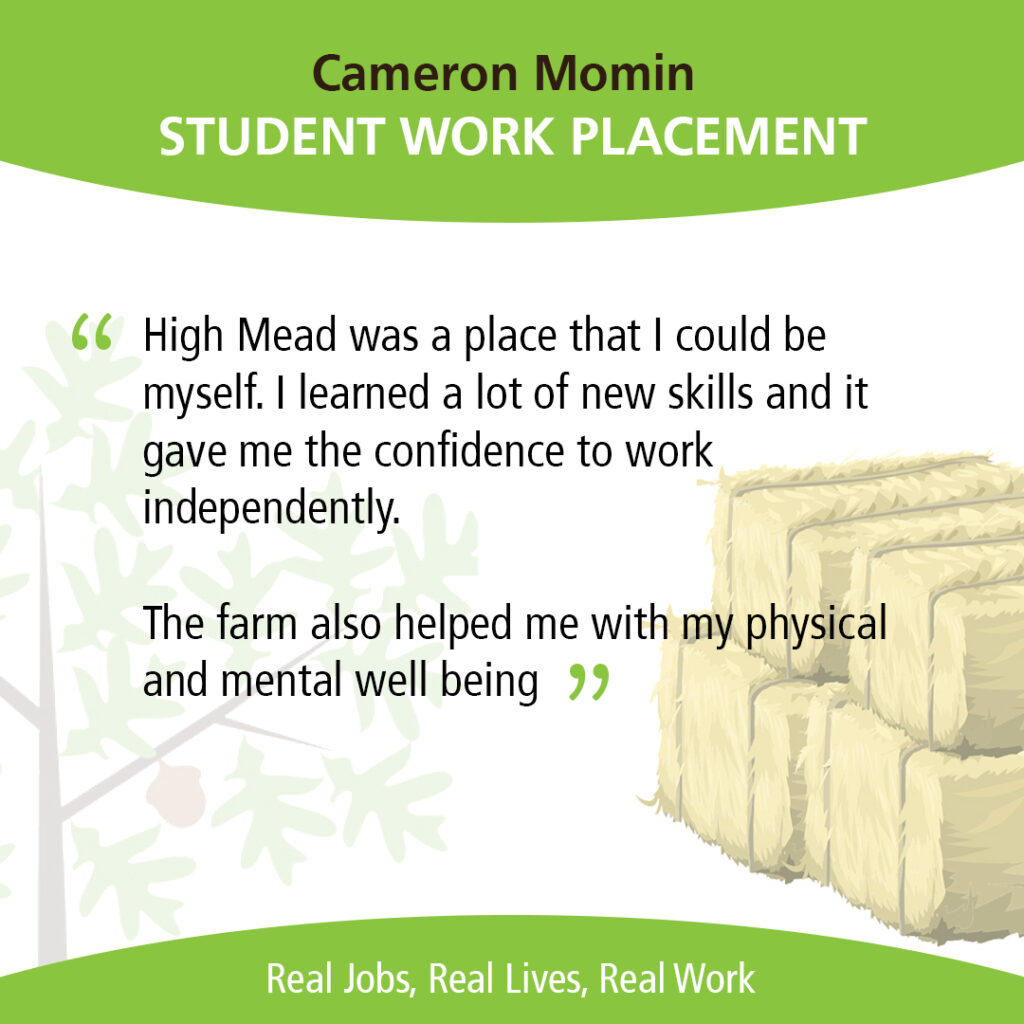 ---
Ben Rampley
Ben spent three years with Employ My Ability at our Moreton site and graduated in 2020. Ben worked towards qualifications in Hospitality and showed everyone he has a real talent for working the front of house at our Dovecote café.
Ben really enjoys working face to face with the public providing them with a variety of hot drinks, cakes and light lunches. Ben has developed so much since he began his time at Employ My Ability, it has been a long journey for Ben, from the early days when he struggled with nerves and lacked confidence when speaking to new people to where he is now. Ben became confident on the telephone, taking bookings in our Dovecote café and engaging with the public at the counter.
Alongside his front of house skills, Ben also worked in the kitchen and assisted the chef team with making a range of sandwiches and creating other light lunches. Ben undertook an external work experience placement with Not Just Sundaes in Wareham, and has already proved what an asset he really is. Ben anticipates which jobs need doing and gets about his work with a smile and has a great sense of humour which he displays with staff and customers alike. Ben finished at EMA in the summer of 2020 and we're confident he can gain employment in a café or restaurant environment where he will prove to be a valued member of staff.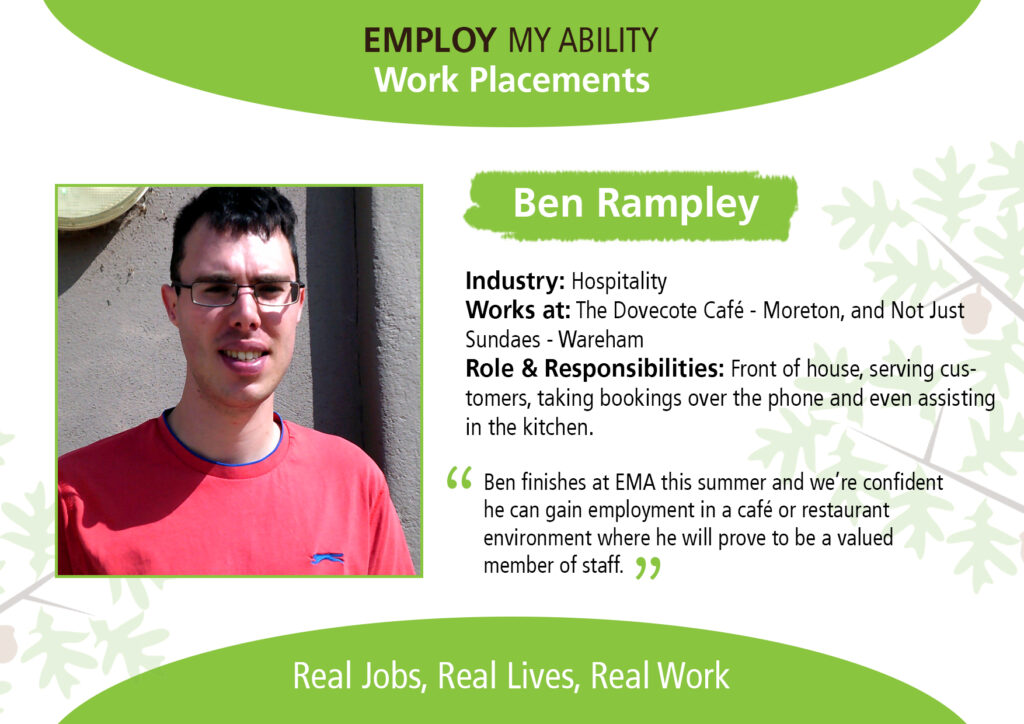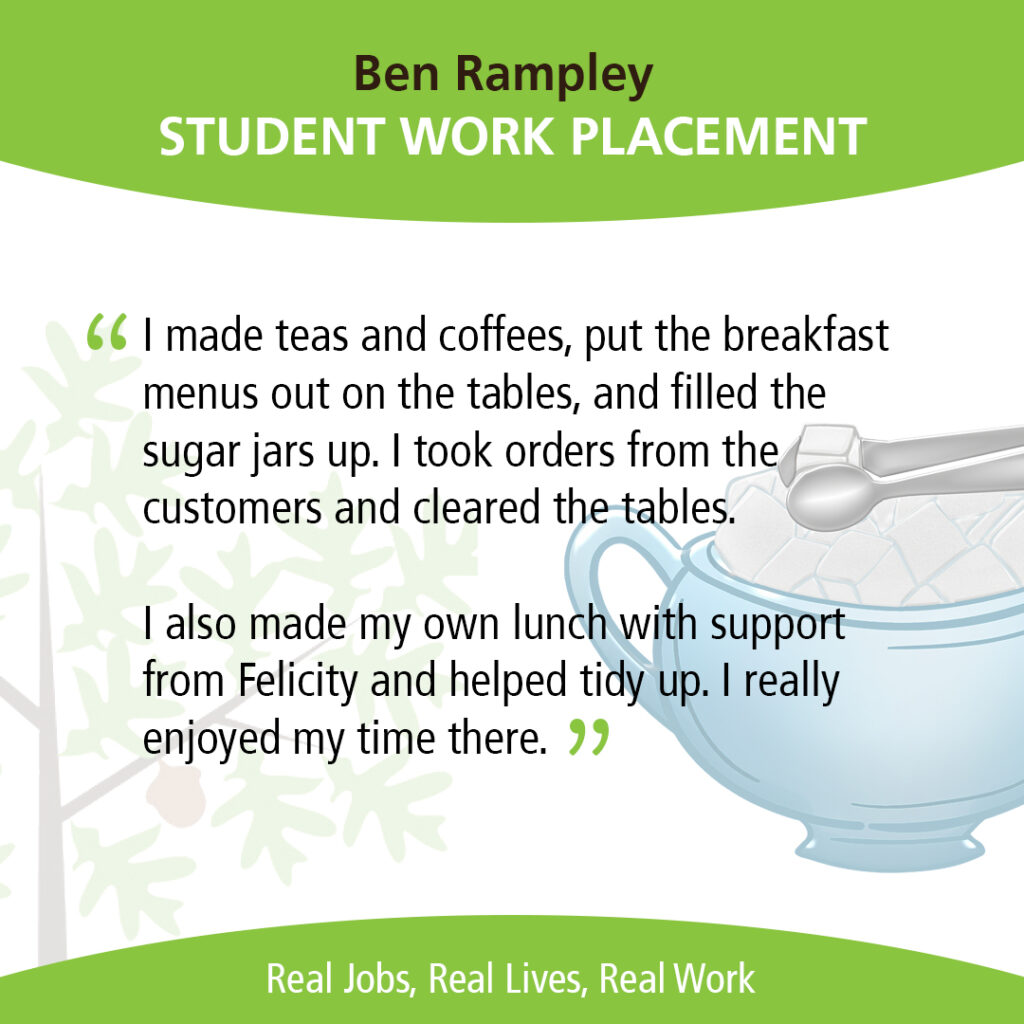 Aaron Stevens
Aaron is currently a second year student with Employ My Ability at our Moreton site The Walled Garden Moreton.
Aaron is passionate about catering. Having enjoyed previous work experience placements at the Ilchester Arms in Abbotsbury with his previous college, Aaron came to us equipped with an impressive set of skills in the kitchen. He has shown himself to be a valuable member of our team in the Dovecote café at our Moreton site, taking charge of our breakfast menu as well as creating specials for sale to our customers.
Before lockdown, Aaron's exceptional skills led him to an external work experience placement at Taste Brasserie in Dorchester where he has worked as assistant to the chef for a full day once a week. Taste Brasserie has been a fantastic opportunity for Aaron to further his knowledge and skills and gain experience in a busy kitchen.
The work placement team have set Aaron outcomes in both places of work to lead to a transference of skills between the two places to benefit both Taste Brasserie, the Dovecote café and of course, to increase Aaron's confidence and skills. We're looking forward to the cafés being opening once again so Aaron can continue to achieve his goals.
Aaron has had minimal support from EMA staff at his workplace and is now travelling to work and back from home independently as well as working without support as part of the chef team at Taste. Aaron is well on his way to becoming a fantastic chef and we're excited to be a part of, and to follow his journey!